High Quality Precision Made Units
Call us today 01243 552330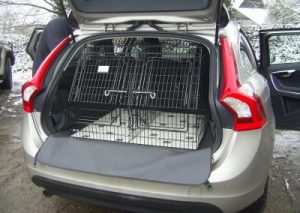 Barnesbrook dog cages are precision made units custom designed to meet our customers' requirements and are matched exactly to the dimensions available from your vehicle. To facllitate this we can either work to your draft drawings or from measurements you provide to us by email or throught he post. Our units use high quality materials in manufacture with the emphasis on 'The Silent Traveller' meaning that you and your dog will travel in comfort without any annoying rattle from cheaper units and cage bolts that can often be seen in inferior cages. In addition all parts used in assembly cannot be easily pulled off by your dog, so no more chewed components and unstable units.
We specialise and emphasize the fact that our cages are precision made using high quality materials designed to prevent rust and rapid wear. The Barnesbrook travel cage can be unfolded in your vehicle, or folded to only 3in (7.5cm) flat, to allow better use of space. The folded cage also allows the pet bed to remain captive.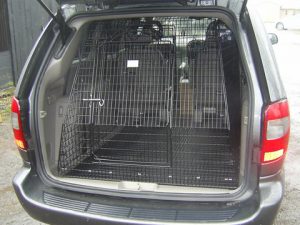 Barnesbrook cages are or a rigid construction made from sturdy 2in (5cm) x1in (2.5) x 10 SWG mesh coated with a poly-powder text wrap finish, and fitted with our unique stainless steel hinges that renders our product rattle resistant. The registered design requires no nuts or bolts to be eaten or lost!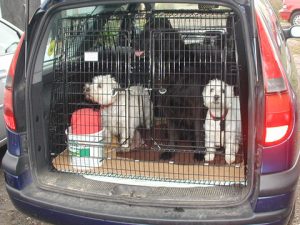 Over 200 different designs to choose from stock, options include single or multiple doors, removable centre dividers, rear escape doors etc. A full size paper template is supplied FOC before any purchase of custom cages. Most bespoke cage orders constructed and delivered within 14 days.